Dept. Travis Junior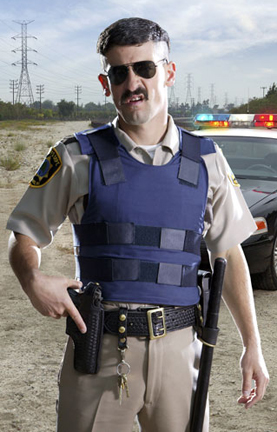 AKA:----

Portrayed by:Robert Ben Garant
---
First seen:Pilot
---
Episode Count:88
Early Life
Edit
Deputy Travis Junior ran in a trailer park gang called the dixie mafia when he was in 8th grade. He then joined the U.S. Army, and served in the Iraq war right out of highschool. He was given the Medal of Honor for killing so many arabs and being an American Freedom Machine. He joined the Reno Sheriff's Department soon after this.
Sheriff's Dept.
Edit
Deputy Junior trains the police dogs for the department. He is rarely seen without his trademark aviator sunglasses. When working, he always wears his Kevlar vest over his uniform shirt (instead of under it, as a police officer normally would). There are several running gags concerning Junior. The first is the "traffic stop": Junior pulls over a driver and is usually knocked out or otherwise rendered incapacitated by an opening door or something falling off of the vehicle. Another running gag with Junior involves him, (although it is never actually seen), stealing, or otherwise tampering with Lt. Dangle's abandoned bicycle. Much to Dangle's annoyance. The other running gags usually involve him being mauled by dogs, or catching on fire. That doesn't stop him from being so damn cool.
Love Life
Edit
He has been shown to have flings, but never any steady relationships, with women. Particularly of Asian decent.
In one episode he gave fellow Deputy Kimball a "officer down" radio call and pretended that his gunshot wound was grave in an attempt to trick her into having sex with him out of sympathy. In the course of what she thought was a conversation with a person about to die, the two exchange information on their family backgrounds; Kimball and Junior gradually realize that they share a common uncle in Louisiana.
He was briefly married before. When the department was running a prostitution sting, he was undercover as a client of a prostitute and signed a marriage certificate that he believed was fake and also had the lady's signature on it. By law they were officially married and she moved into his Winnebego with him. The relationship was full of confusion and no satisfaction to the lady but happiness from Junior. She later stole the Winnebego with Junior and Dangle in pursuit as she threw his clothes out the windows. After Junior attempted to talk to her, she kicked him off and he landed in a ditch, making Dangle stop as she sped off, never to be heard from again.
Hobbies and Interests
Edit
Loves beer, NASCAR, firearms, Lynyrd Skynyrd, and perhaps most of all, his moustache.
Community content is available under
CC-BY-SA
unless otherwise noted.