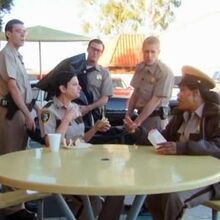 Season 6, Episode 14 - aired 07/01/2009.
---
Pre-Title Sequence:
The crew investigate an incident caught on security cameras.
Episode:
Dangle and Junior investigate lights in the desert and are confronted by a crew of unknown officers.  Jones and Declan address a disturbance at Captain Crabby's.  The morning briefing sees Dangle discussing the Secret Santa program.  The unknown officers are present an no one wants to admit they don't know who they are.  Junior and Rizzo respond to a burglary call and are confronted by an armed Neighborhood Watch.  Dangle and Junior appear on Mexican Radio with El Chupacara (Nick Kroll).  Dangle and Wiegel plan to uncover the unknown officers' identities.  Wiegel and Williams discuss Secret Santa and end up talking to the unknown officers.  Declan and Jones respond to a bar fight.  Jones and Rizzo question Mike about a disturbance the night before.  Dangle rides with one of the unknown officers and tries to guess his name.  Wiegel addresses students about private parts.  Dangle and Junior, then Wiegel and Rizzo, talk about Secret Santa from years past.  Dangle and Junior respond to a 911 call that from Ranger Glenn that turns out to be a false alarm.  Back at the station the crew continues discussing the unknown officers when they appear and reveal themselves as Men in Black.
Guest Stars: Nick Kroll