Dept. Clementine Johnson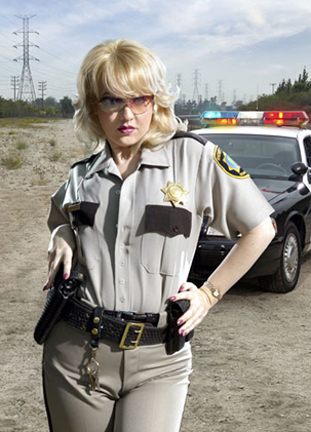 AKA:
---
Portrayed by:Wendi McLendon-Covey
---
First seen:Pilot
---
Episode Count:73
Early Life
Edit
In the past, Johnson has been a magician's assistant, an exotic dancer, a Wiccan and a Steely Dan groupie. In one episode she had mentioned that she was a high school drop-out. She has a troubled relationship with her mother because they sometimes fought over men. In one episode her mother is shown to be working as a prostitute. Johnson is an admitted drunk driver and a pothead. She is typically lenient with drunks and drug users.
Sheriff's Dept.
Edit
Johnson was later promoted when she confronted the Captain of the department regarding objectification through the use of the new "Kevlar for Her" vests. She came back claiming she had been promoted, in which case she would be classified as a Sergeant Class II if everyone else (except Dangle and his second-in-command, Garcia) is a Sergeant Class I.
Love Life
Edit
She is know to be very promiscuous. Her comment at a wedding about performing the night before for the bachelor party makes it clear she has an off-duty job. She has a tattoo on her back which once said "Steed" (a one-time boyfriend), later changed to "Steely Dan" after the relationship ended. Early in the first season, she had a relationship with Jones, but she also enjoyed a brief fling with Garcia in Season 2, a relationship she compared to "getting a flu shot" ("You do it once, and you never have to do it again!") when Garcia dumped her, although her face betrayed her real feelings. She had Garcia's face tattooed on her breast after a drunken fling when the sheriffs went to Miami. At one point, she married Steed but later discovered it was unofficial because the couple had forgotten to obtain a marriage license. When she mistakenly believed herself to be pregnant, she approached first Jones and then Dangle about marrying her and acting as a father to her unborn child.  She was engaged to an aging hot tub king, hoping to inherit his estate when he died, but he died shortly after proposing.  After engaging the other deputies in a scheme to arrange a wedding to the corpse, she discovered that it was all for naught, as he had never officially divorced his wife
Hobbies and Interests
Edit
Clemmy enjoys witchcraft and Steely Dan